ROUTINES AND LIKES
CONTENTS
FUNCTIONS:
exchanging personal information: daily routines (jobs) and likes.
1. Watch this video and explain what problem Daisy has got and why.
What do they do on Monday, Tuesday, Wednesday, Thursday and Saturday?
2. Could you describe
Mr. Bean´s day
?
What does he do?
At 6 a.m.:
After getting up:
At 7.30:
At 12:15:
At 6 p.m.:
After dinner:
In the evening::
After midnight:
What are there in this room?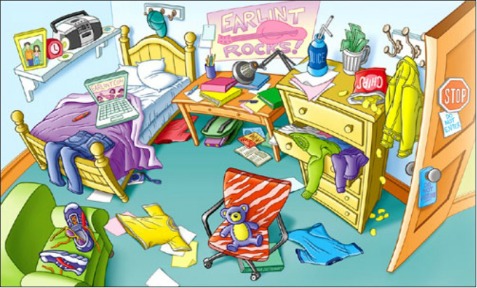 describing a place (

Buckingham Palace)

.
Can you describe this place? What are there?
VOCABULARY:
daily activities and hobbies.

jobs routines.
common objects and places.
GRAMMAR:
You can practise here
This can be a useful place
Test on Present Simple
What about a Quizz?
1. Find different forms of the present

:
Milky Chance, Stolen Dance or you can try

with this

: https://www.youtube.com/watch?v=DcCKiaBQ5lk
Have a look
Some exercises
Complete the sentences
there is/are. Have you ever heard this: https://www.youtube.com/watch?v=y2oKRKZnEoA ?
Do these exercises
Choose the correct answer
Do the exercises
Practise
What about a game
Here you have another one
You will know this one
making positive, negative sentences

and questions.
Build sentences
Write the words in order
Another wor order exercise
More practise
TEST YOUR ENGLISH:
Test